About Feagans Law Group | Personal Injury Attorneys
Feagans Law Group was founded by Joshua Feagans, who has championed the causes of accident and injury victims in greater Chicagoland, Illinois, and parts of the Midwest for nearly a decade. With his wife and co-founder Katie, the firm brings a new perspective to injury law — one of ethics, service, and strength, and a focus on "relationships" — which, together with experiences second to none, affords them remarkable success on behalf of their clients. If you or your family has suffered an injury, please allow the injury law experts of Feagans Law Group to Guide Your Path to Justice.
Feagans Law Group, P.C. is a relationship-driven injury law firm that takes a "concierge"-level approach to representing and truly serving our clients.
RELATIONSHIPS: Fostering relationships helps us support our clients and get results
Relationships are at the center of our practice philosophy. First and foremost is the relationship that we develop, foster, and nurture with our clients. From the first meeting to the resolution of each case, we treat every client with respect, compassion, and understanding. We know that each client has unique circumstances, needs, and priorities - and we accommodate each and every distinct client.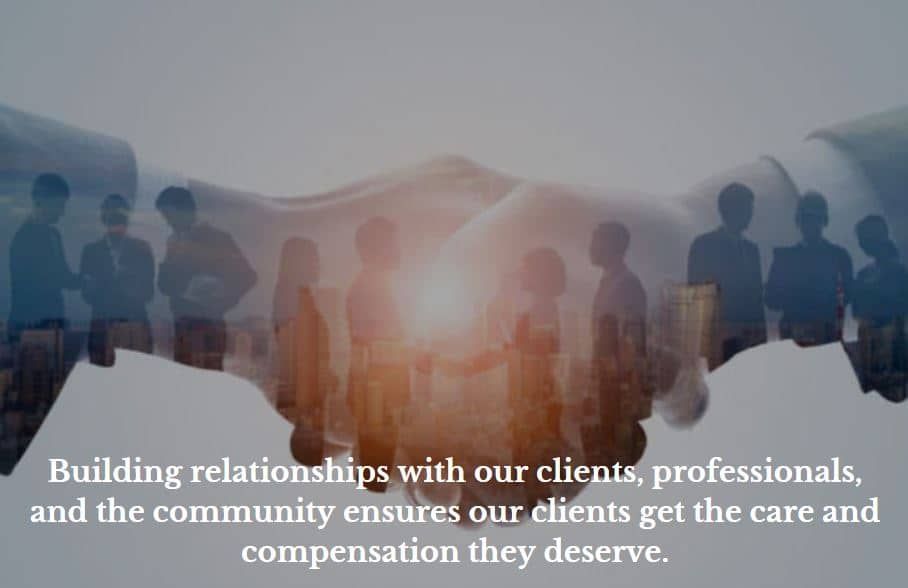 We educate our clients about the injury claim process, the evidence that is needed to bolster claim values, the importance of selecting excellent health care professionals to ensure all medical needs are addressed, and the various methods of resolving medical bills We explain and streamline the nuances of a process that can seem very bizarre, complex, and frightening for accident victims.
Concierge-level representation begins with the needs of our clients. From there, the attorneys at Feagans Law Group foster key relationships with doctors, chiropractors, physical therapists, medical service providers, funding companies, medical billing consultants, scientific and medical experts, insurance agents, health insurance companies, and, yes, even insurance adjusters. With these relationships, we provide injury victims with critical resources that provide health care insurance, pay for medical bills, compensate during times of unpaid wages, and, ultimately, recover the proper compensation our clients deserve.
JUSTICE: We are fierce advocates for our clients
We recognize relationships will go only so far in advancing our clients' interests. Accident attorneys must be aggressive at the outset of any case to push for a timely and fair resolution. When insurance companies act unfairly, our attorneys aggressively fight for our clients' rights in court, arbitration and beyond. As a result, we have been recognized locally and nationally for our efforts and our success by numerous organizations, including the American Association of Attorney Advocates, American Institute of Personal Injury Attorneys, Leading Lawyers Network, Kane County Chronicle, and Daily Herald, among others.
More importantly than the recognition, however, are the results that benefit our clients to help them recover.
DEDICATION: We put our knowledge, experience, and relationships to work for you
Our approach to practicing law is a team effort and a family affair! After having met and married in law school, Josh and Katie Feagans first worked for insurance companies and law firms in downtown Chicago, gaining a true understanding of the injury process from the insurers' side. Our family has now practiced law in the greater Chicagoland, Illinois, and throughout the Midwest for more than a decade. We are committed to this area and are members of many local organizations, including the St. Charles Chamber of Commerce, Kane County Bar Association, CASA Kane County and the Brookfield Zoo, to name just a few.
All of us at Feagans Law Group are dedicated to putting our knowledge, experience, and relationships to work for you. If you or your family has suffered an injury, please allow our personal injury attorneys to Guide Your Path to Justice.
-Josh Feagans, Principal
Feagans Law Group, PC